DICOMATICS data management solution offers advanced data cleansing and enrichment services to ensure that your medical data is both accurate and optimized.
Our team of data experts dedicated to ensuring that your organization enjoys the benefits of clean data, we will remove incorrect, incomplete, duplicate and improperly formatted data. Correcting these errors manually is inefficient and costly, DICOMATICS best practices, tools and processes will make sure the transformation is smooth and hassle-free.
Use Cases:
Data Migration (PACS Replacement)
Integrating data from multiple sources (M&A)
Implementing a new EMR system (EPIC/Cerner)
Implementation of VNA
Data mining efforts
And more..
Benefits
Data Standardization
Deduplication and Integrity (Remove duplicates)
Detect and eliminate formatting errors (date, length, numeric)
Enrichment of data with supplementary data (random, unique, missing values)
Advantages
RIS/HIS/PACS reconciliation – validate data against the source of truth data set
Reconciles and update DICOM tags data
Automatically / algorithm base matching
Rollback option
Preview of before and after
No more excel spreadsheets
No extra cost for database expert staff/IT
Data cleansing is necessary, correct data integrity problems before they impact decision making or patient safety, let our experts help and manage these efforts for you.
Data Cleansing Process
Data Analysis

Source system
Other sources (HIS/RIS)

Data Matching

Scoring setting
Adjust algorithms

Data Review

Review with customer
Exception list
Audit
Approval

Data Correction

Applying edits
Manual review
Validation
Customer can use our web portal to review and approve our matching algorithms and edits.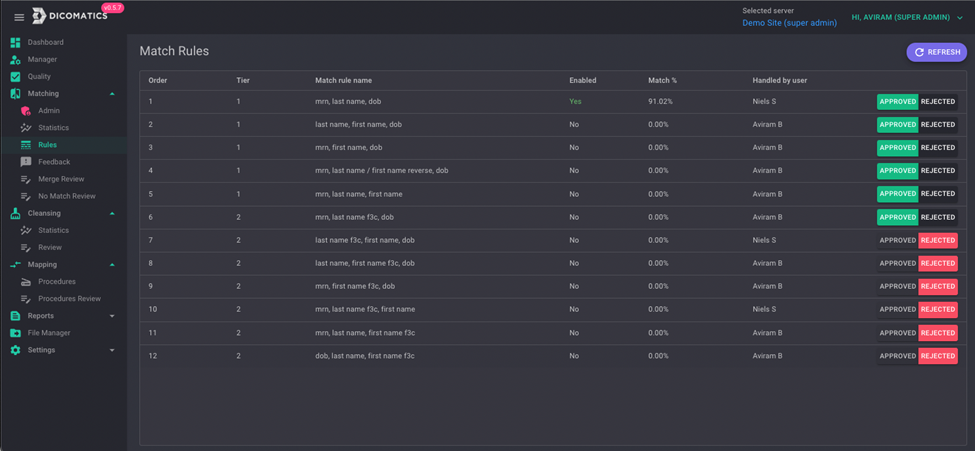 End to end, hassle-free customizable data cleansing solution.
Experience With