We Help Medical Imaging Centers Achieve Their Goals
Working with Dicomatics
Because of its highly complex nature, data migration requires a partner that has a proven track record in the planning and execution of these projects. Successful data migration depends as much on people as it does on the technology. At Dicomatics, we are comprised of a team of Data Experts, which creates an easy and seamless process from start to finish, ensuring that your data stays safe and secure. Our team of professionals are all located in the United States and are composed of friendly experts who produce the highest quality work.
Learn More

What Our Clients Are Saying
DICOMATICS is committed to providing leading-edge solutions and unparalleled customer satisfaction. We are proud to say we have 100% customer retention. Below are a few of our testimonials.

Nick Alesi
Product Manager at nucleus health
Dicomatics repeatedly exceeded my expectations with their impressive ability to successfully handle multiple complex data migration projects simultaneously; each with overlapping short deadlines. I was very impressed with their flexibility to quickly adapt and overcome difficult challenges as they arose throughout the project and to come up with creative solutions. I will always go to Dicomatics anytime I need to manage, move or manipulate data because they stay in close communication and produce high-quality work that exceeds customer expectations.

Yossi Shahak
CEO at Maverick Medical AI
We used Dicomatics services to anonymize database of clinical reports. They removed all demographics information from over half a million reports. Dicomatics were responsible to engage with the customer explain about their work and set expectation in terms of timing and security. Dicomatics created all needed connectivity 's to the customer system. They did a fantastic and professional job and i would recommend them to any institute that needs data migration or to anonymized existing data.
Lee

Thank you very much for all your hard work with these data migrations. I couldn't have asked for a better group of people to get this done. All in all I am very happy with these results. I actually thought the error rate would have been greater considering all the bad data to start.
Again, thank you very much! Very Happy!
Michal M

DICOMATICS was awesome, easy to work with. They brought suggestions and solutions that made our decision-making process easier.
Steven

Working with DICOMATICS has been awesome; it was a real partnership throughout the project. they feel more like an extension of your team than an outside vendor.
Thank you for a job well done.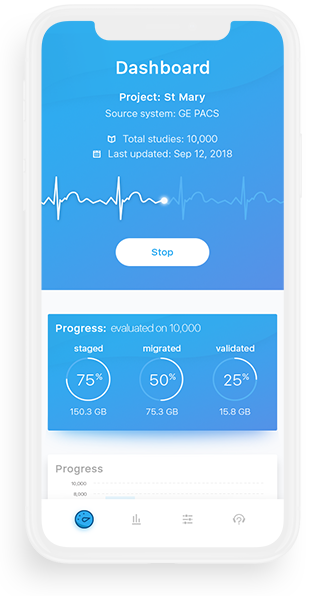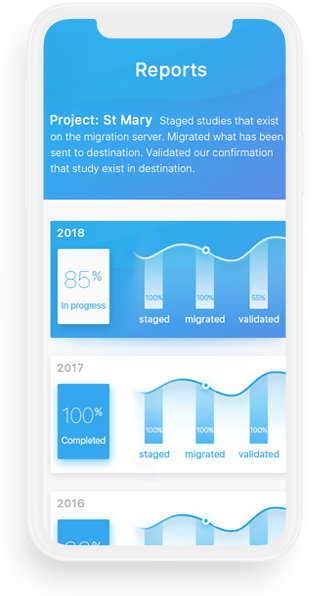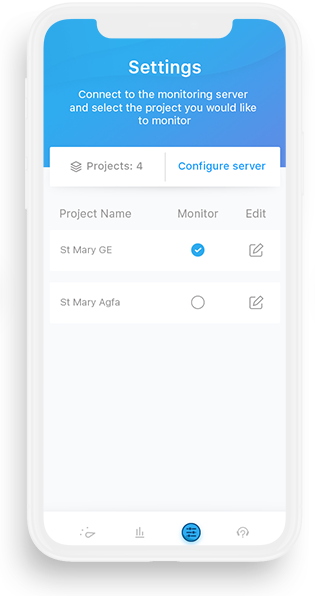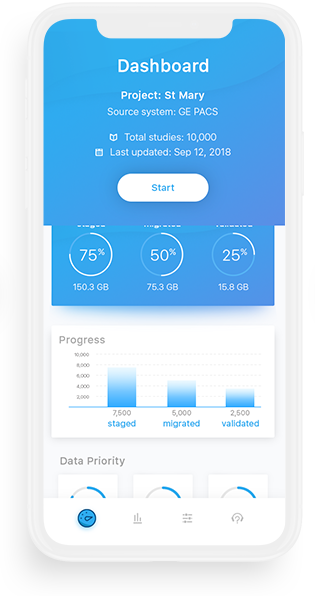 Transparent Insight into
Your Data Migration
It's our goal to make sure you fully understand all aspects of your data migration project. One of our primary goals is having strong relationships with our clients, and we do this by ensuring that you are completely looped into the project, from start to finish.

Data Reporting
---
Our custom app provides real time reporting on your migration project. You will never have wonder what the status of your migration is or how far into the project we are.

Full Control
---
To ensure our clients feel totally at ease during the migration, we have allowed our app to control the migration when necessary. Your data migration, all at your fingertips.
Unqiue Benefiets of Working with Dicomatics
Why Choose Dicomatics

Experience With